LIMITED EDITION HEADLINES LEXUS LC CONVERTIBLE LOCAL ARRIVAL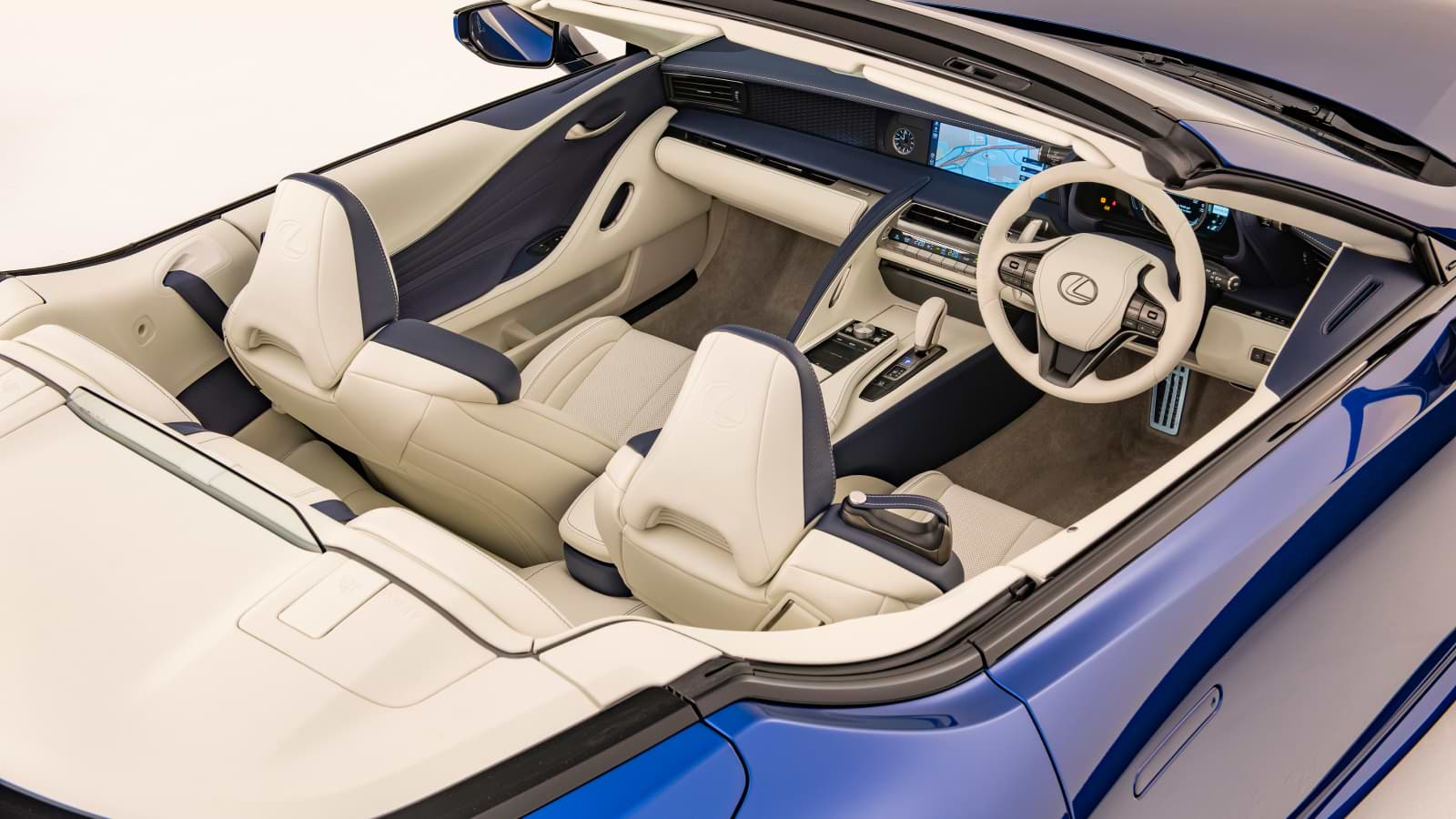 Lexus Australia this month welcomes the first LC Convertible headlined by a stunning limited edition representing the pinnacle of brave design, Takumi craftsmanship and exhilarating performance.

The luxury lifestyle brand can also reveal engineering specification enhancements for the LC Convertible, ensuring the design and dynamic character of the LC Coupe is retained while leveraging the emotional appeal of driving a V8-powered sports car.

Fewer than 10 examples of the special LC Convertible Limited Edition will arrive from September 29, with a stunning and innovative Structural Blue exterior colour complemented by an exclusive, nautical white-and-blue semi-aniline leather-accented interior.

Structural Blue pursues an extraordinary visual experience by harnessing a newly developed structural colour pigment. Compared with existing blue pigments - where light is absorbed once and blue light reflected - a multi-layer construction enhances the interference effect on the light to reflect higher luminescence and saturation.

This special colour and paint technique is matched by a blue four-layer fabric roof, and unique limited edition scuff plate, to create the ultimate LC Convertible and deliver a feeling of luxurious coastal escapism.

As demanded from a flagship convertible by Lexus, luxury customers will be able to tailor their vehicle to match their personal taste thanks to 40 available exterior colour, interior trim and roof colour combinations.

This includes 10 exterior colours1 - Carnelian, Khaki Metal, Titanium, Deep Blue, Zinnia Yellow, Infrared, Graphite Black, Sonic Silver, White Nova and Slate Grey.

Luxury customers can then select each exterior colour with black trim and black roof, flare red trim and black roof, ochre trim and beige roof, or ochre trim and black roof.

Lexus targeted uncompromising engineering goals for the LC Convertible to create a flagship that offers special appeal in the luxury convertible segment.
The roof design of the four-seat LC Convertible continues to capture the artful silhouette of the LC Coupe, enabling front and rear headroom to measure within 11mm and 4mm respectively, and boot capacity to figure within 48 litres of the coupe.

A compact roof design has allowed only three major panels to be changed compared with the coupe - the forward pillars, rear guard and boot lid - allowing the muscular rear haunches and emphatic proportions to be retained.

Pored over by expert Takumi craftsmen, the roof includes four layers - three fabric and one of sound-absorbing material - to enhance cabin quietness when the roof is raised.

The outer layer is made of luxurious wrinkle-free cloth, while inside the headlining has been crafted to deliver a tactile feel befitting a flagship convertible.

The new headlining complements a highly tactile serrated-finish roof mechanism switch and luxurious new seating.

Lexus Takumi craftsmen have even obsessively analysed the front seat heating range, expanding their size across the seat compared with the LC Coupe and adding adjustable neck heaters to account for cold-weather driving when the roof is lowered.

Deep-hung seat cushioning has been further extended, along with the addition of Lexus 'L' embossed headrests and a unique quilting pattern for the semi-aniline leather-accented trim.

The aluminium and magnesium construction of the hydraulic roof mechanism - which can be lowered in 15 seconds at up to 50km/h - also minimises weight, resulting in a lower centre of gravity than the LC Coupe.

A more rear-biased weight distribution for the LC Convertible also combines with the addition of highly rigid yet light weight front, centre and rear bracing supports, a rear suspension tower brace and shear panel to ensure tight handling.

The LC Convertible builds on the relentless engineering evolution of the recently updated LC Coupe - including lighter forged-aluminium suspension components, a hollow rear stabiliser bar, Yamaha2 -developed rear performance damper, optimised Adaptive Variable Suspension (AVS) and new Active Cornering Assist (ACA).

The celebrated 5.0-litre normally aspirated V8 petrol engine makes 351kW of power at 7100rpm and 540Nm of torque at 4800rpm in the LC 500 Convertible.

A recently retuned 10-speed automatic transmission combines with the revised chassis to leverage the best from the highly rigid GA-L rear-wheel drive platform, and enable smooth ride comfort to coexist with excellent dynamics.

Lexus Australia Chief Executive Scott Thompson said the arrival of the LC Convertible continues to define the Lexus commitment to delivering even more beautiful, immaculately crafted and immersively dynamic new models.

"The flagship LC Convertible will offer the most elite and demanding luxury customer an incredible blend of virtues when it arrives later this month," Mr Thompson said.

"It is unrivalled to combine a stunning exterior with perfect Takumi craftsmanship and interior luxury, mixed with an incredible V8 sound and engaging rear-wheel drive handling - now with the emotion and precision of a Lexus convertible roof design."
Every buyer of the LC Convertible will also gain a three-year membership to the recently announced Lexus Encore Platinum Owner Benefits program3.

This builds on the Lexus Encore program and its exclusive hotel and dining benefits4, money-can't-buy experiences and Lexus Service Experience - featuring DriveCare5 24/7 roadside assistance and capped-price servicing4 including personalised servicing pick-up and drop-off from home or work, and loan vehicle.

Lexus Encore Platinum includes access to Lexus on Demand, allowing Members to swap into another Lexus (subject to availability) at local or interstate dealerships, or Qantas valet at Sydney, Melbourne, Brisbane, Adelaide and Perth airports.

Accessed via a seamless Lexus App, Members can make four bookings, up to eight days at a time, across their three-year membership.

Lexus Encore Platinum further includes eight valet parking vouchers at participating Westfield shopping centres and Chadstone Shopping Centre in Melbourne, ensuring LC Convertible owners enjoy the luxury of time - to both save time and savour experiences.
Footnotes
1.
Lexus Australia reserves the right to vary or discontinue the current interior and exterior colours, trims and colour/trim/model combinations. Colours and trims displayed are a guide only and may vary from the actual colours due to printing/display process. See your Lexus dealer to confirm availability when ordering your vehicle.

2.
"Performance damper" is a registered trademark of Yamaha Motor Co., Ltd.

3.
Encore Platinum Benefits apply on new and demonstrator L-Series & F-model vehicles sold on or after 03/08/2020 for a 3 year period from the date Encore is first activated by the Dealership. Inclusions may change without notice. Subject to availability. For full T&Cs and details see your Lexus Dealer or lexus.com.au/Encore.
Encore Benefit partners and inclusions are subject to change without notice.

4.
DriveCare as part of Encore Benefits applies for a 3 year period from the date a new or demonstrator Lexus vehicle is first registered on or after 01/01/2020. Coverage and service inclusions vary dependent on vehicle location. For full T&Cs see your Lexus Dealer or lexus.com.au/smallprint/encore-terms

5.
Applies to standard scheduled logbook servicing (normal operating conditions) for 3 yrs/45,000 kms (whichever occurs first) up to a max. 3 services. Lexus vehicles purchased by Lexus Corporate Customers who receive complimentary servicing are not eligible for CPS. For details or to confirm eligibility see your Lexus dealer or visit lexus.com.au/owners/benefits